Second home markets throughout the country have been booming since the coronavirus pandemic. It's easy to understand as many people are looking to get away from the crowded cities and metropolitan areas and shelter in a place that offers much less stress and worry. Even if these moves are just temporary, those with the means to purchase second homes and vacation properties in seasonal resort areas like Aspen have been doing so in record numbers.
Fast-Moving Market
Since our real estate market opened back up in June, it has been extremely busy here. It's a good problem for a real estate broker like me to have, but it really has been almost non-stop for the past few months. Normally, we don't see a ton of activity in late fall, but 2020 has been a different type of year. You can see in the chart below that we saw the greatest increase in sales activity year over year for every segment of homes priced $7M+. Aspen/Snowmass is one of the strongest real estate markets in the United States, in fact on an average sales price per square meter we compete globally for ultra-prime real estate.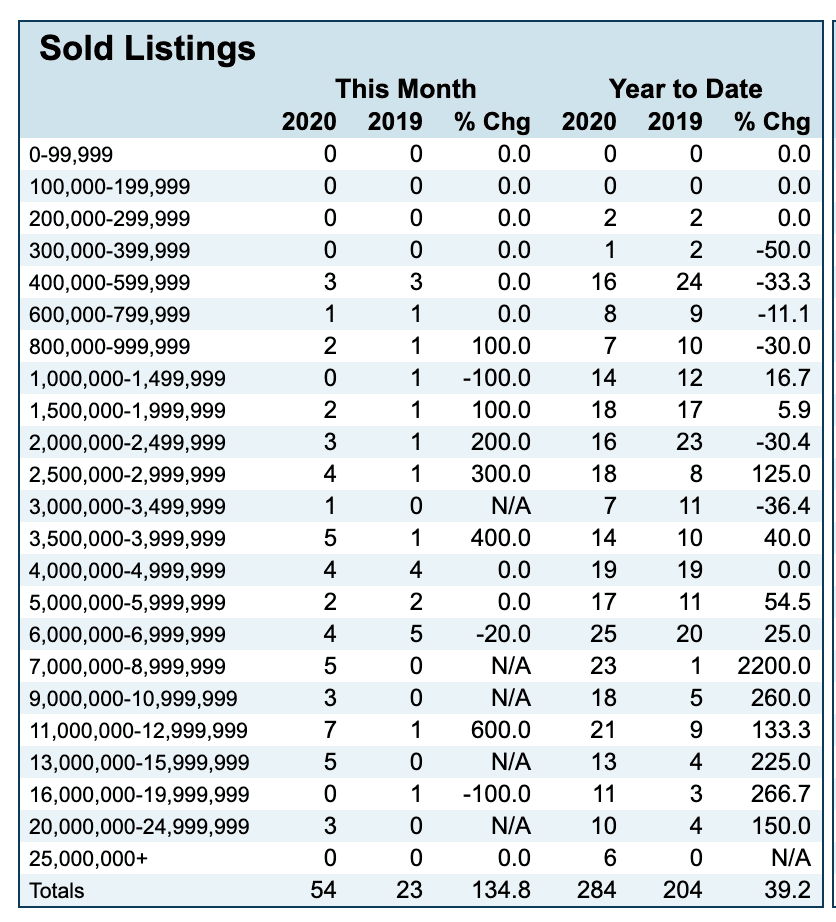 Home Buyers Moving Into "Second Homes"
Many of the properties in Aspen are occupied by the owners for very limited time periods throughout the year. In 2020 we have seen these "second homes" serve as more primary residences. Now that more people have seen the success and availability of working remotely and/or schooling remotely, moving their families into what used to be "second homes" has further strengthened the Aspen/Snowmass real estate market.
Visitors and second home owners from all over the world have flocked to Aspen. Vacation and long-term rental inventory has been suppressed. Owners are spending more time in their Aspen properties and want the option of coming here, which is making it harder to place renters both for vacation rentals and long-term rentals! This is going to be an interesting winter as the market demand stays high while the supply remains limited in the entire Roaring Fork Valley's highly desirable second home market.
Long-Term Impact
What happens when coronavirus is in the rear-view mirror? It's hard to say. Aspen will always be one of the most sought-after markets in the world, whether it's seasonal renters or second home owners who spend certain parts of the year here. The desirability of Aspen/Snowmass will never go down, but COVID-19 has definitely given us a major spike in second home activity like nothing we've ever seen before. We may see an influx of listings when this is all over as this rush of second home buyers ultimately decides to sell, but once the lifestyle and availability of working remotely has taken hold, who knows? Only time will tell.
If you have any questions about the Aspen/Snowmass real estate market, or if you are interested in buying or selling a vacation or investment property in this area, call me today at (970) 366-0891 or email me at brittanie@brittanierockhill.com
___
Brittanie Rockhill
Aspen Real Estate
DRE # FA.100019229