The short-term rental regulation and the residential development moratorium in Aspen have been hot topics of discussion since the "emergency moratorium" that the Aspen City Council enacted on December 8, 2021. After months of discussion and deliberation, a successful lawsuit against the city was immediately followed by a new building moratorium ordinance, an extension of the moratorium, community outreach, and the required two readings of the ordinances prior to voting. The Aspen City Council will be voting on June 28 to change the regulations of short-term rentals in Aspen, as well as the rules regarding residential development.
This will be a public hearing and the last chance to make public comment before the council votes. People can attend the session in-person or virtually online. You can also submit a written statement to the public record for consideration or complete an anonymous ACRA survey to share your thoughts (links below).
Short-Term Rental (STR) Permits (Ordinance #09)
The vote will be to change who is eligible for short-term rental (STR) permits as of January 1, 2023. If the vote passes, STR permits will only be issued to a natural person, not an LLC or another type of ownership entity. Those who already have valid STR permits in 2022 will be eligible for annual renewal, pending regulation compliance, tax remittal and by proving the permit was used legally in the course of the previous year. Fees for short term rentals will also be increased from $150 per year as follows plus the cost of a business license:
STR-Classic: $394
STR-Owner-Occupied: $394
STR-Lodging Exempt: $148/unit
Another component of this STR regulation will gradually reduce the number of STR permits in Aspen residential zones by 25% through attrition. Permits will no longer travel with the sale of a property. There will be a waitlist to get a permit for owners that are not in the commercial core or lodging zone (i.e., Aspen's single family neighborhoods and any condominiums outside of downtown zoning map). The STR permits will be divided and issued based on three categories: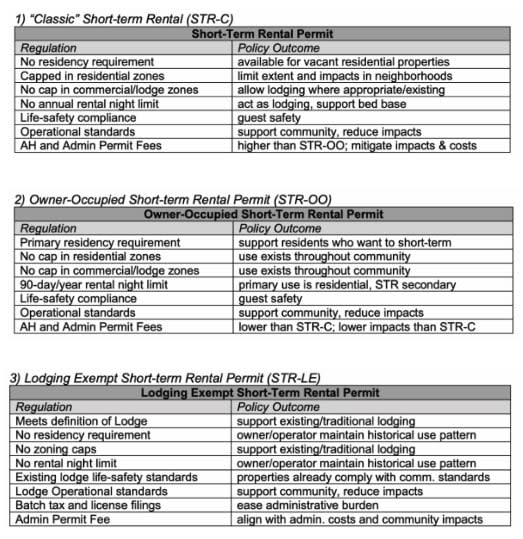 Residential Development (Ordinance #13)
In addition to the changes for the short-term rental economy, there is a new ordinance to update residential development regulation in Aspen. This will be voted on in the same city council session. The new regulation, addresses the pace and scale of residential development and affordable housing opportunities (via affordable housing mitigation fees). If passed, limits on annual residential development in the city could be adjusted to no more than six single-family or duplex demolition and redevelopment projects annually.
Included in the code changes is the portion of residential square footage that must be calculated for affordable housing mitigation will be significantly increased.
Another component of the discussion is removing hurdles and fast-tracking projects that are 100% deed-restricted, affordable housing projects. These development projects must be fully compliant with the requirements of the city's Land Use Code.
If you would like to attend this public hearing or express your feedback for or against these ordinances, now is your last chance to speak up before they vote next week. Here are some links you will need:
Submit Written Statement (email)
I will be here to guide you through the next steps and discuss what these changes mean for your investment strategy in Aspen.
___
Brittanie Rockhill
Aspen Real Estate
DRE # FA.100019229