As we look ahead to the 2021 Aspen real estate market, it's important to reflect upon what happened in 2020. It was a crazy year for everyone with the pandemic, politics and other issues affecting our daily lives. However, it was an incredible year from a real estate perspective. In fact, Aspen had a record-breaking year of real estate sales!
Record-Breaking Numbers
Despite the market being effectively shut down for most of the spring season, it opened up in June with a flurry of activity. Buyer demand was at an all-time high as people were looking to get out of the crowded cities and into more rural environments. Resort markets like Aspen and Snowmass were a natural draw for many individuals and families because of our remote and luxurious mountain lifestyle. This is the perfect place to escape the urban lifestyle and enjoy our active outdoor amenities. I've always said we are so fortunate to experience life at 7,908 feet!
As a result of these various factors, the Aspen second home market exploded in the second half of 2020. In Aspen alone, we eclipsed more than $2.5 billion in real estate sales last year. That is the highest total ever. To put this in perspective, the average sales total from 2017-2019 was approximately $1.9.billion.
Aspen Market Report
Inventory is thin and demand continues to grow, especially in the high-end luxury market. Every price segment over $7 million saw at least a 1.5x increase in sales activity. We had 9 sales of over $25 million in 2020. Over the past 11 years, there is roughly 1 sale of this magnitude each year. It is an incredible seller's market right now with high prices, low mortgage rates and strong buyer demand. If you are considering selling your house or condo in Aspen, we should definitely talk soon.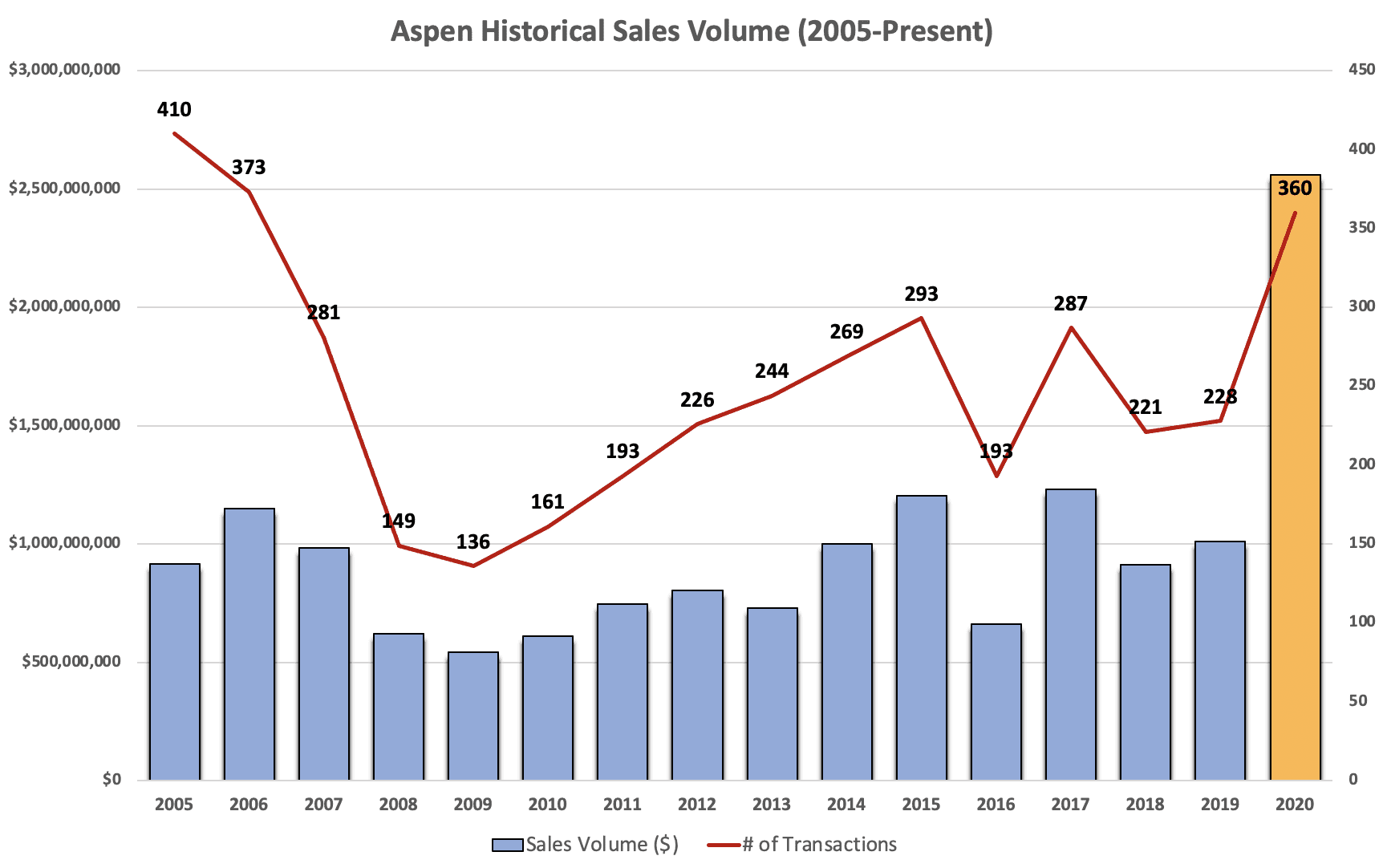 I was recently quoted in both the Aspen Times and the Aspen Daily News. Some of the Times' numbers are a little off based on my MLS data, but the articles provide nice insight into 2020 Aspen real estate trends. Check out both below:
Aspen Times: Aspen-Area Real Estate Sales Top Record $3 Billion for 2020
Aspen Daily News: A Year of Big Changes in Aspen Real Estate
Snowmass Market Report
We can't overlook Snowmass Village, which also enjoyed a record year of real estate sales exceeding $575 million. Inventory remains very low in this market, though the new development in Base Village has bolstered the $3-3.999 million segment. As of late December, there were only 30 single-family homes on the market in Snowmass Village, with an average asking price of $6.25 million.
If you are looking to buy, sell or rent a home in the Aspen/Snowmass area, contact me today. Everything is moving so quickly here and the activity will only pick up as we head into our spring market. It pays to be prepared and informed before you make your move. I'll be happy to be your guide as you navigate the unique Aspen real estate market. Call me anytime at (970) 366-0891 or send me an email at brittanie@brittanierockhill.com
___
Brittanie Rockhill
Aspen Real Estate
DRE # FA.100019229